Planning for a move? Uhaul is indeed your best moving partner. You should estimate the exact size and gas mileage of Uhaul Rental Trucks to make your next move easy and comfortable.
In this article, the estimated miles per gallon of each Uhaul rental truck is estimated and presented for your guideline. However, it should be kept in mind that these are just estimated prices and only to give you a better understanding of your total cost for the upcoming relocation. Although, the Uhaul rental truck company claims that many factors can affect the miles per gallon for your truck. For example, your driving habits, the quantity of load loaded, road conditions, vehicle speed, and weather conditions.
Gas Mileage; an important consideration
There should be no doubt the point that big trucks consume a large amount of gas. This is the reason that gas marriage is one of the most important considerations when you plan to rent a Uhaul truck for your next relocation. According to the American Automobile Association (AAA), the average gas price nowadays in almost all the states nationwide is about $2.48 per gallon. However, some states have even higher rates for gasoline, as the highest $3 per gallon, such as Oregon, California, Nevada, Washington, and Pennsylvania.
When you make your (DIY) move plan, never forget to consider the price of the gas in your state and the overall truck's gas mileage. This will help you to get a better estimate of your total cost for the do-it-yourself move. Moreover, this will also give you a clear indication of how many times do you have to stop for the gas refilling during your location trip.
Why Uhaul?
Uhaul Is working as one of the most mature moving rental truck companies in America. It has all the required experience to satisfactorily fulfill all your moving needs. Moreover, it is the top priority of Uhaul to undergo moving in such a way that it does not affect our beautiful planet in any way. Following are few reasons why you should choose Uhaul for moving across America:
Plenty of truck sizes available.
The wide network spread all across the nation.
A considerable number of add-on services are available.
Favorite DIY moving company for more than 50 million people in North America.
Uhaul prohibits the usage of dirty diesel in moving trucks, and therefore, saves the environment from exposure to dangerous greenhouse gases.
The suitable recycling process for recyclable material including paper, aluminum glass, plastic, and cardboard.
Uhaul Rental Trucks Gas Mileage: Choosing the Right One
According to an average estimate, an ordinary American citizen moves almost 11 times in his life. Therefore, moving is an almost common activity throughout the nation. For this reason, the nation is in need of good Movers and Packers. Fortunately, there are many good moving services available throughout the country. The Uhaul rental truck is one of them. Moving is time taking, expensive, and stressful process. Moreover, orthodox moving can have a lot of negative impacts on our environment.
Following are the gas mileage of each of the trucks available at the Uhaul:
1. Uhaul 8 foot Pickup Truck Gas Mileage

Truck Mileage: 19 miles per gallon.
The capacity of the fuel tank: 34 gallons.
Planning for a local and small move? You have a very good chance to save a lot of your money by selecting the u-haul 8-foot pickup truck. This truck is very popular for performing the studio move and local move. Moreover, it is also very popular among the students who want to move into a college Dorm room. This truck has enough interior capacity and can handle up to 1980 lbs. This is approximately equal to one small size Queen bed and several small size boxes.
2. Uhaul Cargo Van Gas Mileage
Truck Mileage: 20 miles per gallon.
The capacity of the fuel tank: 26 gallons.
If you are next relocation includes slightly more belongings than a twin bed and a small number of boxes, you should opt for renting a Uhaul cargo van. These cargo vans from Uhaul are extremely fuel-efficient, particularly for the local moves. They have the capacity of transporting up to 4000 lbs load. This can include something like a queen-size mattress set and various medium size boxes. This cargo balance from Uhaul rental truck company is also very effective for small Apartment moves and Studio moves.
3. Uhaul 10-Foot Box Truck Gas Mileage
Truck Mileage: 12 miles per gallon.
Total fuel tank capacity: 31 gallons.
The 10-foot Uhaul box moving truck is especially a popular selection among students moving to college Dorm rooms as well as any other person who wants to move to a small apartment. It has a capacity of transporting almost 2800 lbs. This is approximately equal to small size beds, medium-size mattresses, and medium-size boxes.
4. Uhaul 15-foot Box Truck Gas Mileage
Truck Mileage: 10 miles per gallon.
Total fuel tank capacity: 40 gallons.
If you are moving requirements demand slightly bigger than 10 foot into hall moving truck, then 15-foot box moving truck may fulfill your requirements. This truck has a significantly large interior and it has a capacity of transporting more than 6000 pounds of weight. It is a perfect option for transporting two-bedroom household moves.
5. Uhaul 17-Foot Box Truck Gas Mileage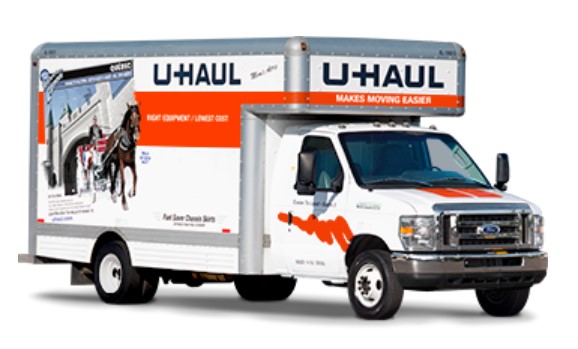 Truck Mileage: 10 miles per gallon.
Fuel tank total capacity: 40 gallons.
A 17-foot u-haul moving truck is a medium-sized track option. Particularly important for local moves that demand transporting a significantly larger number of household items. This truck has a capacity of moving about 6,000 pounds. It is a popular choice for moving two to a three-bedroom house, and also for large apartment moves.
6. Uhaul 20-Foot Box Truck Gas Mileage
Truck Mileage: 10 miles per gallon.
The total capacity of the fuel tank: 40 gallons.
One of the best Uhaul rental trucks for moving two to three-bedroom houses or Apartments is none other than 20 food box trucks. It has a huge loading capacity of 5605 pounds and a very spacious and roomy interior capacity. It is a perfect choice for all those people who are planning to go on a long-distance move. The truck passenger cabin is comfortable for seating three adult passengers.
7. Uhaul 26-Foot Box Truck Gas Mileage
Truck Mileage: 10 miles per gallon.
Total tank capacity: 57 gallons.
The biggest rental truck available at the Uhaul rental truck company is a 26-foot box truck. It is available for residential as well as commercial moves. This 26-foot Uhaul truck has a big capacity of transporting more than 7500 pounds overweight and is easily manageable for more than 4 bedrooms house move. It has a huge interior trunk size and the passenger cabin can easily accommodate three adults passengers.
Important Considerations to choose the Truck with Optimum Gas Mileage
It is a very smart and clever approach to choose a rental truck and also achieve the best gas mileage possible. However, you must consider the following factors in order to achieve this:
1. The Overall Volume of Your Move
If you have a bigger move, obviously you need a bigger size of the truck. If your move consists of more than three-bedroom, it is large, and you have to opt for a large Uhaul size truck. In this case, don't consider the gas mileage, consider your moving needs first. But only prepare yourself to refill your truck frequently.
2. The Total Distance you have to Travel
More gasoline is required for more distance. Don't forget to include the cost of gasoline when budgeting your next move. Furthermore, if you have to travel long-distance move, you should try to get a comfortable seating vehicle. For this reason, you may have to opt for a larger size truck because the larger the side of the truck the bigger the cab space it has. Most of the large-size u-haul rental trucks have comfortable seating space for 3 adult passengers.
Another important consideration for a long-distance move is that you will not be able to make a lot of back and forth trips between your destinations. Therefore, you have to load your truck in such a manner that all your belongings get into the truck in the first and only one-way move. Again, you need a large size truck for this reason.
All those who are moving locally should not be worried a lot about the gas cost. Because first of all for the local move you probably would need a small size truck which has good gas mileage. Secondly, you may not have to stop frequently for gas refilling for local moves.
3. Gasoline Prices in your State
Undoubtedly, gas prices vary from state to state all across the country. According to the American Automobile Association AAA, some States have even larger gas prices such as Washington, Nevada, and others. The average normal price of gasoline within the country is almost $2 per gallon, however for some specific states in this may go as high as $3 per gallon. Therefore, you must take into consideration the gas price in your state before booking your next rental move truck.
4. The Size of your Uhaul Rental Truck
A general rule of thumb says that the larger the truck the worse the gas mileage it has most of the time. This is the reason that even medium-sized and large-sized Uhaul rental trucks give around 10 miles per gallon mileage. So, so renting the right size of u haul rental truck is very important for your next relocation. If you consider that you are moving just locally, you should consider medium-size or smaller-size trucks such as 10-foot box trucks and get a total mileage of around 12 miles per gallon. Therefore, if you consider that your belongings and furniture, and other items can fit into the ten-foot u-haul box truck, you are surely going to get a big shape for your bucks. This is the reason that a 10-foot box truck is the most popular u-haul rental truck.
Still, need help in determining the size of your u-haul truck?
The most important things you should consider while deciding the size of your u-haul rental truck for the next move include:
Total weight and the volumetric size of your belongings.
Size of your furniture.
Can your furniture and other items disassemble?
The total distance of your move.
The overall budget limit for your DIY move.
Another simple trick for you in deciding the right size of u haul rental truck is:
Uhaul 8-foot pickup truck, 9-foot cargo van, 10-foot moving truck are suitable for one-bedroom and small studio moves.
The Uhaul 15-foot box truck, 20-foot box truck, and 26 food box trucks are recommended for medium to large size moves.
Uhaul 26 hot box truck is your only option if you are considering more than a 4-bedroom house move.
Also for your information, 15 foot, 20 foot, and 2642 hall rental trucks have very comfortable passenger Cabs, vied loading ramps, and low decks for making your move comfortable and easy.
What is Uhaul policy about truck refueling?
The company provides two choices to the customer for you refueling then moving trucks. Firstly the customer can simply choose to book a moving truck and opting for Uhaul EZ to service, it is particularly important for local movers. On the other hand, the customer can opt for refilling the truck with gas themselves before returning it to the company. In this case, the customer will have to make sure that the truck is filled to the same fuel level at which it was dispatched to him.
Other Notable Rental Truck Options
Uhaul is not the end of the moving world. Today, there are plenty of other moving rental truck companies in the market for you to choose from when planning your next move. If due to any reason you find that you don't have a Uhaul rental truck location near your residence, you should consider other rental truck companies that are located near your residence and conveniently fit your budget. Other not able rental truck companies include Penske, U-pack, enterprise rental trucks, and budget rental trucks.